Welcome to The Granary Club
BRISTOL'S LEGENDARY HOME OF ROCK 1968 to 1988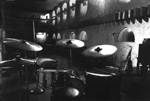 This is the official Granary Club web site which commemorates
the 20 year history of the celebrated venue and the musicians,


groups and disc jockeys who appeared there.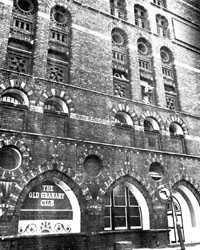 Between 1968 and 1988 over 1,500 groups appeared on the club's tiny stage including
YES : KING CRIMSON : MOTT THE HOOPLE
CURVED AIR : ARGENT : SLADE : SUPERTRAMP : ATOMIC ROOSTER :
GARY MOORE : THIN LIZZY  : ROBERT PLANT : DEF LEPPARD : FOCUS
BARCLAY JAMES HARVEST : STATUS QUO : GENESIS  : URIAH HEEP
ROBERT PALMER : JUDAS PRIEST :  MANFRED MANN : BEBOP DELUXE
SQUEEZE  : AVERAGE WHITE BAND : MUNGO JERRY : ALEX HARVEY
IAN DURY : DIRE STRAITS  : JOHNNY COUGAR : PAUL YOUNG
GINGER BAKER : BLUES BAND : BILLY IDOL: CARAVAN  : STRANGLERS :
MOTORHEAD : UFO: IRON MAIDEN : GRAHAM BOND
The Granary Club web site and the Granary Club re-union events
(Granareunited) are managed by AL READ and ED NEWSOM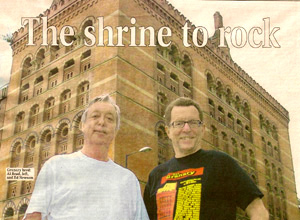 Al and Ed were partners in "Plastic Dog" the music company that started
the rock nights at the Granary in 1968. Ed was also the club's first
DJ and then Al took over when Ed left.
Al also booked the groups through until 1982.
_______________________________________________________________
SEE THE GRANARY ON "You Tube
HTV "LOOKBACK 2000″ feature on the Granary Club" - GO
BBC "INSIDE OUT WEST" featuring commentary by Al Read
with original Plastic Dog members Ed Newsom and Mike Tobin visiting the apartments where the Granary used to be,
Stackridge play live at TrinityHall and the Stranglers live at the Granary playing "Golden Brown" for the first time
as well as the Granareuited gig at the Golden Lion December 2009 - GO
Slideshow of photographs taken at Granareunited 16 on Sunday 27th December 2009  - GO
BBC Radio Bristol feature recorded at the Granareunited 29 event at the Golden Lion Bristol on August 25th 2013 with added photo slide show of Granary archive pictures
-
GO
BBC Points West interview with Al Read about the Granary book (2004)  - GO
__________________________________________________________________________________________


To be added to the Granary email list to receive Granary related information and updates on Granary re-union events
type your email address into the space on the sidebar and press submit.